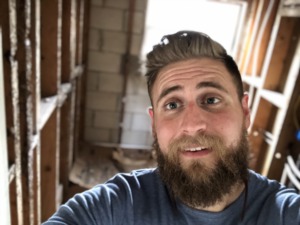 Justin Stamper, one of the few born and raised Orlando natives. After flipping his family's foreclosed home when he was 19, he started buying houses at the courthouse steps auction, and then worked his way up to becoming an OG flipper and wholesaler in Central Florida.
When he is not busy flipping Zombies, he enjoys drinking fine whiskey, brewing craft beer,cooking for his family and friends, chatting with strangers, and listening to music too loud. 
His trusty sidekick and best friend is his chocolate lab Marley.  She loves playing fetch and soccer in the park, chasing squirrels, swimming, wishing someone would give her food, running laps around the house for no reason, eating sticks, and truck rides in Lil' Red!.